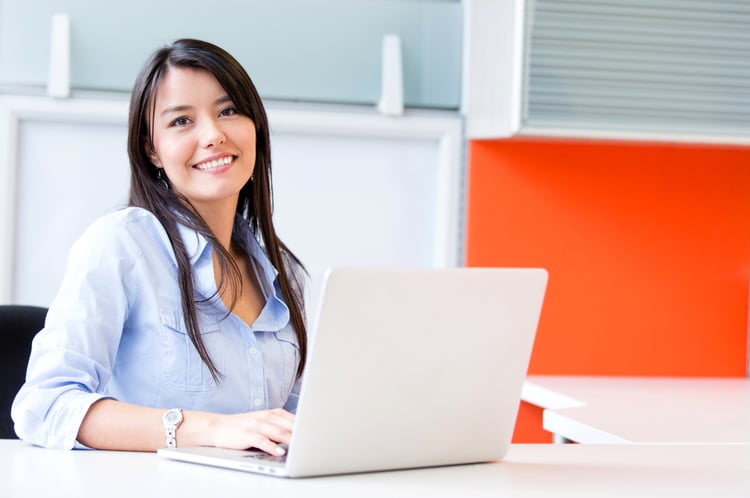 Even though 2021 had its fair share of unique and memorable moments, the end-of-year chaos tends to follow the same script as years gone by.

You have multiple projects, employee reviews to complete, plans to finalise, events to attend, and the general sense of pressure to tie a bow on things before the clock strikes December 24.

As business leaders, our plates are beyond full at this time of year, which brings with it a propensity to miss the crucial one-percenters that set your team up for a positive and productive year ahead.

So, here are five key HR actions you can adopt to close out the year the right way.

#1 - Say thank you
While this isn't groundbreaking, a sincere thank you, with context, is one of the most powerfully positive actions you can take.

Demonstrating appreciation for your employee's hard work and dedication motivates them to continue bringing their best self to work. But, the absence of a genuine thank you at this time of year can seed frustration at a time when people are already reflective about their lives and careers.

You want your employees to enter their Christmas break with all the momentum and positivity you can. You want them to tell family and friends how much they love their role, and more importantly, that they are excited about the year ahead, not that it may be time they consider some new opportunities.

Now, it's important to note that you shouldn't aim for a one-size-fits-all thank you.

Some people respond best to a meaningful one-on-one, private discussion. Others thrive on the public recognition that an end of year awards ceremony brings. And others get their energy from gifts and other tokens of appreciation.
What's important is that the thank you is truly personal and meaningful.

A generic $200 hamper with a pre-printed Merry Christmas tag will pale in insignificance to a $40 souvenir from the employees favourite holiday destination and a personalised card:
Julie, I know how hard these last 12 months have been on you and your family.

Your ability to juggle the at times impossible set of obligations stacked up in front of you was nothing short of inspiring.

While I didn't want to rub sea salt into the all too raw wound of missing your annual Port Douglas trip, I wanted you to know that your commitment to bringing your best self to work is greatly appreciated.

One day soon, you will wear this t-shirt to work with an annual leave request in hand, and it will make my day.

You embody the very best of what we do as a company, and for that, I am truly grateful.


#2 - Host a year-end event
The symbolic nature of the work Christmas party transcends the provision of a company-funded meal or activity.

In many ways, the existence of an event and the forethought that went into its organisation shape employees' opinions about the company's culture.

Whether it's the opportunity to introduce their significant other to their colleagues, let their hair down with their teammates, or build memories and stories that fuel the lunchroom laughter for months to come, the return-on-investment in a Christmas event is immeasurable.
It's also important to note; you don't have to book a function room in a trendy bar and have an unlimited drinks package to deliver an enjoyable event. In many ways, the better alternative for all concerned could be a family BBQ in the park, lawn bowls tournament, or a myriad of other inclusive activity-based functions for all.

Such events create positive, memorable moments and even traditions.

Related article: Avoiding HR Risks With Your Work Christmas Party >


#3 - Review & re-set
While many organisations set their annual plans against the financial year, the calendar year is arguably the more natural frame of reference for progress.

Employees can have a heightened sense of anxiety around job security at the end of the year, particularly if the business or market more broadly have faced economic challenges. Equally, many employees reflect on their career progression and life ambitions at the end of each year.
It is, therefore, important that organisations adopt an open dialogue for a 'year in review' style discussion, which should run in parallel with discussing plans and visions for the year ahead.

That is not to suggest you have to re-orient any existing planning cycles but instead take the opportunity to use the end-of-year context to provide relevant updates and highlights.

Such discussions should invite feedback and two-way communication so that everyone feels heard and invested in their role in the company's success journey.


#4 - Provide clarity and flexibility on work arrangements
One of the positive impacts of COVID-19 was the changed perspectives for work productivity. 'What' became more important than (and largely uncoupled from) 'where'.

As we approach the Christmas period, your team will appreciate an update on working arrangements for next year and an understanding of the business' stance on workplace flexibility, hybrid working and working from home policies.

In addition to workplace flexibility, you may look to provide employees with extra paid time off over the end of year period.

You could even make these extra days off on ongoing entitlement and give them their own identity, such as calling them "Re-charge Days".

Features such as these enhance culture and your employee value proposition more broadly.


#5 - Update your external stakeholders
Naturally, the term 'team' is interpreted as meaning employees. However, in the context of this next point, 'team' is more all-encompassing.

Progressive organisations recognise that value creation comes from the company's broader network of stakeholders.

Here are a few examples of great stakeholder engagements:
Advising customers of your office closure periods


Coordinating with suppliers to align on your needs for the year ahead and how you can best support them to maintain mutuality in the business relationship


Meet with contractors to showcase your appreciation for their services and commitments, not too dissimilarly to what we discussed in the sections above.
Each of these efforts is what separates true industry leaders from the companies that struggle to maintain continuity and build inertia in periods of change.

...Can you believe it's December already!?

That phrase, from here on out, is your warning signal that you should have made progress on each of these above five actions.

So, copy the web address of this article and set yourself a recurring annual calendar reminder for the third week in September to review and action your end-of-year plans.

As for this year, fast-track your action against each point listed here, and give yourself a break you too truly deserve.