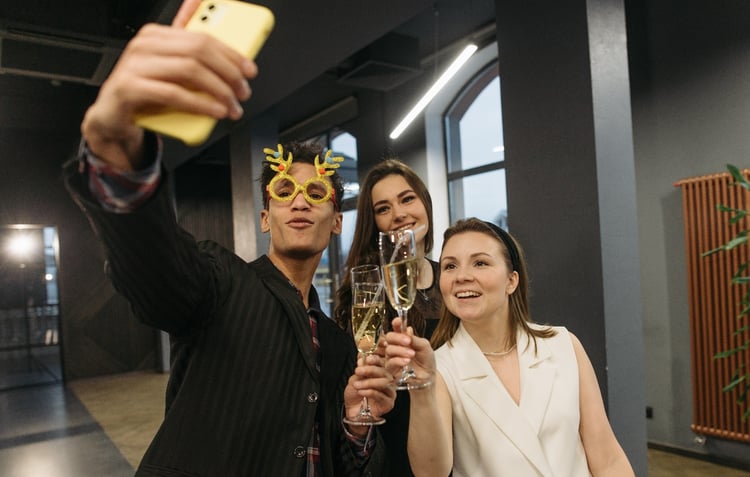 As another year draws to a close, the inevitably hectic period begins.

Between closing out projects, ensuring you hit Q2 numbers and the plethora of personal commitments that December brings, it can be easy to have tunnel vision towards the last Friday before Christmas.

However, now more than ever, you need to have a clear view of the periphery to mitigate potential issues and ensure you're ready to move into next year on solid footing.


A Well Organised End-of-Year Celebration
Yes, you can still call it a Christmas party without fear of being discriminatory. But you need to consider organising an inclusive occasion that encourages all employees to attend and further echos your company values.

For example, is the celebration during work hours? After hours? Weekday or weekend? Are partners invited? Is it a family-friendly event?

Regardless of what you decide to do, some good general guidelines include having clear start and finish times, so everyone knows when the work event has officially ended.

Note: it can be a grey area if the party has finished, but your credit card is still behind the bar.

If you have alcohol, make sure there are low and non-alcoholic options. Also, ensure adequate food is provided, ideally catering to different dietary requirements.

Furthermore, it is crucial to nominate someone — or perhaps put your hand up — to be in charge to keep an eye on everything to ensure everyone is OK. For example, you may need a level head to put the "life of the party" in an early Uber home. Speaking of transport, decide whether you will provide transport home for your team and communicate this so they can make suitable alternate arrangements.

Remind Your Team What a Respectful Workplace Looks Like
While you want everyone to have fun and enjoy your Christmas party, it is still a work function. Reminding the team of this is essential, as there are no time or place considerations when it comes to everyone's obligations regarding appropriate behaviour, if there is a genuine connection to the workplace.

All of your workplace policies still apply — even if your party is at an external venue on the weekend. Furthermore, when you add alcohol to the mix, policies relating to harassment, discrimination, sexual harassment and bullying become even more critical.

A few good stories coming out of the Christmas party is one thing; it's another to deal with a complaint from an employee about someone's inappropriate behaviour the next day at work.

So, remind your team that it is a work event and outline behaviour expectations.

This is a perfect opportunity to refresh your team on your commitment to ensuring a respectful work environment through a Respect in the Workplace education session. Doing so reinforces your values and reminds everyone of the behaviours that are in and those that are out.

This approach is even more important as we move to more rigid requirements on employers to proactively protect employees from sexual harassment as part of the pending Respect@Work recommendations being implemented.

Communicate and Plan Office Closures
Many businesses use the Christmas/ New Year period as an opportunity to close the office, thus allowing the whole team to take a break. Such time is called a shutdown (as opposed to a stand down which is when an employer sends employees home if there is no useful work for them to do, like many had to do during COVID).

If you decide to close over the Christmas period, ensuring you communicate this well in advance is important for both your team and your clients. Providing at least one months' notice of such a shutdown is preferable. It's also important to communicate with your team about how their leave works during this period.

While most employers ask their team to take annual leave during shutdown, some organisations gift extra leave to their team. For example, at Evans Faull, we close for a period of time over the Christmas/ New Year period (we'll confirm dates with you shortly!), but we gift the three days between Christmas and New Year as extra leave to the team.

We see this is a small 'price' to pay for the team's contributions during the year. It also means they can save their accrued leave to take at their preferred times during the rest of the year.

If any of your team don't have enough leave to cover a shutdown period, we don't recommend letting them go into a negative balance unless it is kept in absolute minimum, as it means that they have to work for a longer to accrue some leave to take in the future. If an employee doesn't have enough leave to cover shutdown, they can take it as unpaid leave.


Encourage Your Team to Take Annual Leave
The last couple of years have seen employees accrue serious amounts of annual leave, as they were not able to take leave because of covid restrictions. The Christmas period is the perfect time to encourage them to take some of this annual leave and capitalise on any office shutdowns.

Not only is it a financial liability for your business if your team have high leave balances, it means that they have not being able to take a meaningful break in recent times, which ultimately impacts their ability to maximise productivity and engagement at work.

Good practice is to proactively chat with your team and get them to plan for their leave. This means you're better able to accommodate their leave requests — after all you can't unreasonably refuse a request for leave.

Having these conversations now about their plans for the Christmas period and also looking ahead to next year means you can more effectively plan to accommodate for absences, your team can take a meaningful break, and you can reduce the financial liability of large amounts of leave.

If you have an employee with an excessive amount of leave — usually in excess of 8 weeks — you can direct them to take leave. We suggest you do this initially through conversation, planning and mutual agreement. But if they're not willing to take leave, you can actually direct them to take leave, as long as this request is reasonable.

Please note that if they're Award covered or if an Enterprise Agreement applies, double check the relevant clauses for any specific guidelines

Similarly, if an employee has an excessive long service leave balance, you can also direct them to take long service leave with 12 weeks' notice. Again, we recommend trying to mutually agree on plans to take such leave in the first instance.




Does your team understand what is acceptable behaviour in the workplace and at social events?