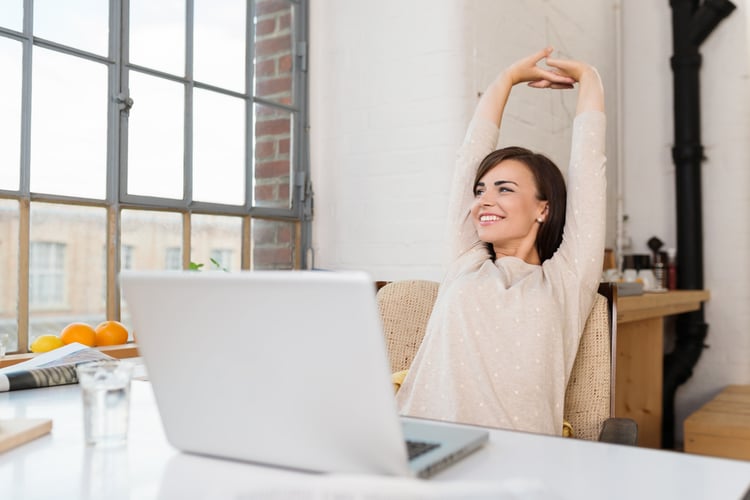 Maintaining our wellbeing has never been so important, but it has also never been harder. When so much of what makes us psychologically 'well' is removed, we need to re-think how we are going to ensure our cup stays full (or at the least that it doesn't completely empty!).

While the activities that we used to look forward to or rely on to give us energy are no longer available to us, this does not mean that we need to completely 'give up' on our wellbeing. However, it does pose the question - how do employers maintain wellbeing for themselves and their teams in the midst of the Coronavirus pandemic?
COVID has unfortunately set the wellbeing bar extremely low. Even the most positive of people are experiencing levels of stress and anxiety that they have never felt before. The amygdala is the part of the brain that is responsible for our flight or fright response - and it loves certainty and stability. Right now, we have neither of those things. So, the notion of 'wellbeing' has become less about pilates three times a week, cooking macro/micro balanced meals and having a catch up with friends on the weekend, and instead is more about 'surviving' each day in whatever way you can. That may mean ignoring the housework so you can have a nap, putting aside the home-schooling while you take a walk or crawling into bed an hour earlier when you know you should be catching up on a myriad of other things.
We no longer have the luxury of 'choice' when it comes to how we would like to maintain our wellness - and no one is immune to the impact of this on our psychological health.


So, what does this mean for businesses?
It means that your business cannot afford to put its head in the sand. It means leaders not only need to keep on top of their self-care but also that of their teams. This is an enormous undertaking, but a necessary one. When employees suffer, the business suffers, the culture suffers, and the financial pressures get magnified further.
Following are some ideas for leaders and businesses to focus on wellbeing as we endure this second period of lockdown, which will undoubtedly have a much more significant impact on mental health:


1. Fill your own bucket

It is undeniably more challenging to do this currently given the restrictions, but think about what your wellbeing needs are and make sure you meet at least some of these daily. Whether it is having a bath, ordering your favourite Uber Eats, sleeping in, going for a run or meditating. Commit to making it happen. If you can't meet your own wellbeing needs, you won't be in a position to support your team with theirs.


2. Daily check-ins

Your team will be feeling lonely and isolated. Managers need to ramp up their communication efforts to stay on top of their team's vibe. Set a group call at least a few days per week to connect with your team. Don't launch with work topics if you don't have to. Ask people what they've been doing. Have they been getting some exercise in? What are they filling their time with? Any tasty recipes to share? What have they been watching? Can they share a photo of their latest puzzle or artwork? It's a great time to get to know one another a little more deeply. If you sense your team is a bit flat, wear a silly hat! Brighten the mood. Also, show your team it's ok to be vulnerable and that you have days where you need to be picked up by them.


3. Self-compassion

You can't extend compassion to others unless you offer it to yourself first. These are difficult times. It is important to acknowledge the challenges, feel the frustration or negativity and then move forward. If your Zoom backdrop isn't just right, it doesn't matter, and no one really notices. If you have a technical glitch, your audience will forgive you. If your kids are screaming in the background, apologise and put yourself on mute for a moment. We're all in the same boat, so afford yourself the same leeway you afford others.


4. Social check-ins regularly

Have team check-ins that are purely social. Talk about anything you like, as long as it is not work-related! If you have a group chat facility, make sure you share for fun. Choose a meme theme for Fridays or any other day that a fun topic pops up. There are millions of funny memes to find and share.

5. Wellbeing surveys

It is more important than ever to get a read on the collective wellbeing of your team. Surveys are really effective methods of getting to the guts of the wellbeing gaps and being able to address these in priority order. It will also ensure that your team knows that wellbeing is a priority for your business, which in turn makes them feel safe and cared for.


6. Reaching out individually

Don't assume that because you haven't heard from someone or because someone is an introvert that they don't need the connection. Make sure to reach out to people, especially those who you recognise may be experiencing a heightened level of stress or anxiety. You will notice this through their interactions and how they behave in meetings or their approach to work. People who are psychologically struggling will often act or react in ways that are out of character. Simply reach out and ask the question, "are you ok" or "how can I help or support you"?


7. Take a lunch break

Take a lunch break and encourage your team to do the same. In fact, place a meeting in the diary of your team members every day from 12.30pm – 1.30pm and name it 'Your Time'. It's a side effect of remote working that calendars have been filled with back to back meetings. They've encroached on the traditional lunch hour for many, and this must be wound back for both yourself and your team.
It's super important to break up your day, leave your desk, rest your eyes, move your legs, fill your tummy and your personal 'bucket'.


8. Have walking meetings

Encourage your support of wellbeing by setting up 'walking and talking' meetings. Not every meeting has to be a video call. Having a meeting while you are walking can often spark new perspectives or ideas simply due to different scenery – so give it a try!


9. Be a wellbeing role model

A culture of wellbeing is essential. This starts from the top, so role modelling the prioritisation of wellbeing to your teams will be a big part of this. This means shutting down your emails at the end of the day and not responding to emails at all hours of the night. It means being 'refreshed' for your morning Zoom calls, being able to talk about the things that are keeping you sane and having a way of capturing ideas from the team. You might also invest in some wellbeing programs for your people such as virtual meditation, confidence coaching, yoga or personal training.
Despite it being a bit harder this time around to find the positives in all this, one great thing that will come out of the pandemic and the remote working experience is that the spotlight will be on wellbeing for the foreseeable future. Employers will be forced to prioritise employee wellbeing and make it a critical part of their People and Culture strategy.
Investing in keeping your teams psychologically healthy will reveal itself in a myriad of positive ways including better culture, better productivity and increased employee engagement. Creating a 'wellbeing culture' that has the best interests of the employees at heart can be transformative for a business and create a workplace that the best talent will be wanting to join and never leave.