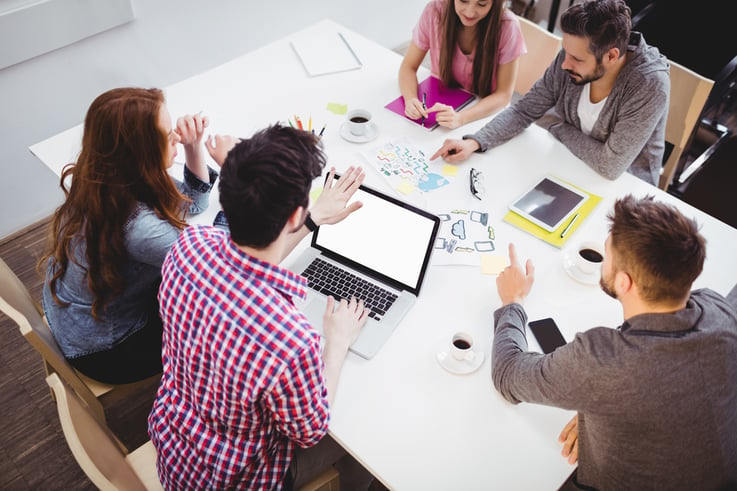 Say the words 'HR' to any business owner and watch them sink into their seat and see their smile quickly fade. The thought of navigating employment legislation can evoke nightmares in even the calmest and level headed of business owners. And for good reason. HR is a significant risk area for a business.

HR problems can be the difference between a business thriving or just surviving; or even surviving and shutting the doors. The current economic climate is challenging enough; you don't want HR issues to be what dictates your business survival.

Whether it is inadvertently paying people incorrectly, overlooking bullying behaviour, hiring someone with a hidden criminal record or making talent decisions that are unlawful (hiring or promoting on the basis of gender for example), there is a myriad of facets where businesses fail to meet their legal requirements.

Someone once told me that business would be easy if it weren't for people. If you have ever managed a team, you'll know what they mean. You won't always have a scenario where every employee always acts in the best interest of the company. People are unpredictable and not easily 'controlled'.

The more that HR is put on the back burner, the more likely it is that your business will be exposed to incidents that could cost you thousands in lost time, lost productivity and lost revenue.

While it is easy to become overwhelmed by the plethora of HR processes and the seemingly endless workplace laws to get across, it doesn't have to be that way. HR can be simple, if not always easy. It takes commitment from leadership and a few fundamentals in place to ensure that you have the basics; as even the basics can mean you are protected from potentially business destroying problems down the track.

Here are 5 steps you can take, to avoid some of the typical HR compliance pitfalls.

1. Understand the National Employment Standards
The great thing about the Fair Work legislation is that the ten minimum employment standards that all employers need to comply with are clearly outlined in the National Employment Standards (the NES). The NES covers off such areas as minimum leave entitlements, maximum working hours and flexible work arrangements. All employers need to understand these and ensure they do not provide less. You are also required to provide a Fair Work Information Statement to new employees on their commencement of their employment.

2. Have a suite of compliant employment contracts
Clear and compliant employment contracts are essential for any business with employees and can save a lot of hassle in the long run. Contracts are legally binding to both parties, so it is critical to get these right to ensure the protection of both parties and to eliminate any disputes that may arise about the employment agreement. These should be drafted by an HR expert to ensure everything is covered and that you have documents you can rely on should anything go wrong in the future.

3. Implement robust employment policies
HR Policies are an important communication tool to ensure that all employees understand the expected standards of conduct and behaviour. Policies define what is acceptable and what is not in the workplace. Reinforcing the expectations through employee training is also essential to ensure that the policies are well understood. Key HR policies that all businesses need include Bullying and Harassment, Equal Employment Opportunity, Social Media and Technology usage, Workplace Health & Safety and all Leave policies.

Policies provide consistency and transparency for employees in terms of their entitlements and obligations. Policies also serve to protect your business.

4. Pay people correctly
Many businesses have been caught out, inadvertently underpaying their employees. Business owners may not be aware that most industries today are covered by a Modern Award. You must understand your obligations under any applicable Award and in particular the minimum rates of pay, penalty & overtime rates and any other allowances payable.

Penalties for underpayment are significant and have been the reason some businesses have had to shut their doors. Ensure that you get this right by determining which Award applies to each of your employees and then mapping all roles against the levels of classifications in the Award to determine the minimum pay rates. There are also requirements around record keeping that you will need to be aware of.

Given audits can happen at any time, having tight record management practices will remove the stress of these occurring and you not being prepared.

5. Understand how to performance manage effectively
All Managers at some stage will need to deal with an employee who is not performing - or behaving - to the required or expected level. Often this can be a very stressful time for both the Manager and the employee. Having a clear performance management process in place with robust tools to support it including performance improvement plans can ensure that the process is as positive and productive as possible and that an outcome is reached in the shortest possible time and in the most risk-averse way.

Business owners have many demands on their time and are often required to wear many hats, including that of HR compliance. However, too often, business owners are not aware of the many compliance obligations or become overwhelmed with the responsibility of this. When it comes to assessing whether you have HR compliance covered, ask yourself the following questions:
Do I know the minimum terms and conditions under which to employ my team?


Do I know which Award applies to my business or industry?


Do we have employment contracts that have been professionally drafted and reflect current legislation?


Have my Managers been trained recently on HR compliance and best practice?


Does our organisation have robust policies in place to communicate our businesses expectations around performance, behaviour and conduct?


Are we employing, promoting and exiting employees in a fair, transparent and non-discriminatory way?


Do our managers know how to conduct a fair and due performance management process?



Are our termination procedures appropriate and meet legal obligations?

If you answered 'no' to any of the above, your business might be exposed. Conducting an internal HR audit can be an effective means of assessing where the gaps lie in your compliance processes and practices. Ensure you employ or engage an expert to assist you in identifying and closing these gaps.
Setting up the right foundations and ensuring that you have access to up to date and accurate employment law and HR compliance information is crucial. Doings so means you will be much better protected from any future costly penalties or employee claims, which can be financially devastating to your business.
A culture of compliance is one where business leaders, managers and employees understand their rights and their mutual responsibilities, and all are set up and empowered to perform at their best. A strong base of HR compliance gives your business is the essential foundation on which to build a successful business and a high performing team.